Valium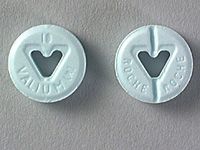 Valium is a drug of the Benzodiazepine sedative class. Valium (diazepam) acts on the limbic, thalmic and hypothalmic regions of the central nervous system to potentiate the effects of inhibitory neurotransmitters. It possesses anxiolytic, anticonvulsant, sedative, skeletal muscle relaxant and amnestic properties. Valium is used to treat a wide range of conditions and is one of the most frequently prescribed benzodiazepines.
Valium Side Effects
Valium has a range of side effects which are common to most benzodiazepines. Most common side effects include:
Somnolence
Impaired motor function
Impaired coordination
Impaired balance
Dizziness
Depression
Anterograde amnesia (especially pronounced in higher doses)
Reflex tachycardia

Rare paradoxical side effects can include:
nervousness
irritability
insomnia
muscle cramps
and in extreme cases rage and violence
Valium Addiction and Abuse
Valium is considered addictive. The user builds a tolerance and feels the need to increase the amount they take to achieve the same "high". Over a period of time Valium becomes physically and psychologically addictive.
Valium Withdrawal
Valium withdrawal symptoms are similar to those of other barbiturates and alcohol which included: convulsions, tremor, abdominal and muscle cramps, vomiting and sweating. Consequently, after extended abuse, abrupt discontinuation should generally be avoided and a gradual dosage tapering schedule followed.
Valium Overdose
An individual who has consumed too much Valium will display one or more of the following symptoms:
Somnolence/difficulty staying awake
Mental confusion
Hypotension
Impaired motor functions
Impaired reflexes
Impaired coordination
Impaired balance
Dizziness
Coma
Although not usually fatal when taken alone, a Valium overdose is considered a medical emergency and generally requires the immediate attention of medical personnel. Overdoses of Valium with alcohol and/or other depressants may be fatal.