LSD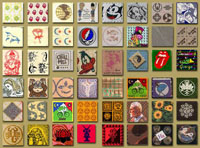 D-lysergic acid diethylamide, commonly called acid, LSD, or LSD-25, is a powerful semisynthetic psychedelic drug colloquially measured in "hits" or "tabs". An average single dose of LSD during the 1960s was between 100 and 150 micrograms, a tiny amount roughly equal to one-tenth the weight of a grain of sand. Today, a typical single dose of LSD is as low as 25–50 micrograms. Threshold effects can be felt with as little as 20 micrograms.
LSD is synthesized from lysergic acid derived from ergot, a grain fungus that typically grows on rye. LSD is sensitive to oxygen, ultraviolet light, and chlorine, especially in solution (though its potency may last years if the substance is stored away from light and moisture at low temperature). In pure form it is colorless, odorless, and mildly bitter. LSD is typically delivered orally, usually on a substrate such as absorbent blotter paper, a sugar cube, or gelatin.
Introduced by Sandoz Laboratories as a drug with various psychiatric uses, LSD quickly became a therapeutic agent that appeared to show great promise. However, the extra-medical use of the drug in western society in the middle years of the twentieth century led to a political firestorm and government insider panic that resulted in the banning of the substance for medical as well as recreational and spiritual uses. Despite this, it is still considered a promising drug in some intellectual circles.
Physical dangers of LSD
Although LSD is generally considered nontoxic, it may temporarily impair the ability to make sensible judgments and understand common dangers, thus making the user susceptible to accidents and personal injury.
There is also some indication that LSD may trigger a dissociative fugue state in individuals who are taking certain classes of antidepressants such as lithium salts and tricyclics. In such a state, the user has an impulse to wander, and may not be aware of his or her actions, which can lead to physical injury. MAOIs and SSRIs are believed to interact more benignly, with a tendency to significantly reduce LSD's subjective effects.
Effects of LSD
The effects of LSD can vary greatly, depending on factors such as previous experiences, state of mind and environment, as well as dose strength. Generally, LSD causes expansion and altered experience of senses, emotions, memories, and awareness for 8 to 14 hours. In addition, LSD usually produces visual effects such as moving geometric patterns, "trails" behind moving objects, and brilliant colors. LSD does not produce hallucinations in the strict sense but instead illusions and vivid daydream-like fantasies, in which ordinary objects and experiences can take on entirely different appearances or meanings. At higher concentrations it can cause synaesthesia. The drug sometimes spurs long-term or even permanent changes in a user's personality and life perspective.
Altered states of perception and feeling; nausea; increased body temperature, heart rate, blood pressure; loss of appetite, sleeplessness, numbness, weakness, tremors