Marijuana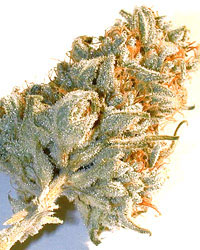 The cannabis plant can be dried or otherwise processed to yield products containing large concentrations of compounds that have psychoactive and medicinal effects when consumed, usually by smoking or eating. Cannabis (also called marijuana) has been used for medical and psychoactive effects for thousands of years. Throughout the 20th century there was a massive upswing in the use of cannabis as a psychoactive substance, mostly for recreational purposes but to some extent for religious purposes. The possession, use, or sale of psychoactive cannabis products became illegal in many parts of the world during the early 20th century, and remains that way today.
C. sativa grows as a common weed in many parts of the world, and drug preparations vary widely in potency according to climate, cultivation, and method of preparation. C. indica is a shorter, hardier variety with rounded blue-green leaves, grown in Afghanistan for hashish. Most marijuanas grown in the United States since the late 1980s are hybrids of the two and yield a much more potent product than the marijuana of the past. The resin found on flower clusters and top leaves of the female plant is the most potent drug source and is used to prepare hashish, the highest grade of cannabis. The bud of the female plant, called sinsemilla, is the part most often smoked as marijuana.
The Drug
The effects of marijuana vary with its strength and dosage and with the state of mind of the user. Typically, small doses result in a feeling of well-being. The intoxication lasts two to three hours, but accompanying effects on motor control last much longer. High doses can cause tachycardia, paranoia, and delusions. Although it produces some of the same effects as hallucinogens like LSD and mescaline (heightened sensitivity to colors, shapes, music, and other stimuli and distortion of the sense of time), marijuana differs chemically and pharmacologically.
The primary active component of marijuana is delta-9-tetrahydrocannabinol (THC), although other cannabinol derivatives are also thought to be intoxicating. In 1988 scientists discovered receptors that bind THC on the membranes of nerve cells. They reasoned that the body must make its own THC-like substance. The substance, named anandamide, was isolated from pig brains in 1992 by an American pharmacologist, William A. Devane.
Marijuana lowers testosterone levels and sperm counts in men and raises testosterone levels in women. In pregnant women it affects the fetus and results in developmental difficulties in the child. There is evidence that marijuana affects normal maturation of preadolescent and adolescent users and that it affects short-term memory and comprehension. Heavy smokers often sustain lung damage from the smoke and contaminants. Regular use can result in dependence.
Effects
Of the approximately 400 different chemicals found in Cannabis, the main active ingredient is tetrahydrocannabinol (delta-9-tetrahydrocannabinol, THC). THC can degrade to CBL & CBN (other cannaboids), which can make one feel sleepy and disorientated. Different marijuana products have different ratios of these and other cannaboids. Depending on the ratio, the quality of the "high" will vary.
THC has an effect on the modulation of the immune system which may have an effect on malignant cells, but there is insufficient scientific study to determine whether this might promote or limit cancer. Cannabinoid receptors are also present in the human reproductive system, but there is insufficient scientific study to conclusively determine the effects of cannabis on reproduction. Mild allergies to cannabis may be possible in some members of the population.